Global Citizenship: Whole World Sensibilities and Responsibilities in the Time of COVID-19
July 30 @ 10:00 am

-

11:30 am

CDT

$30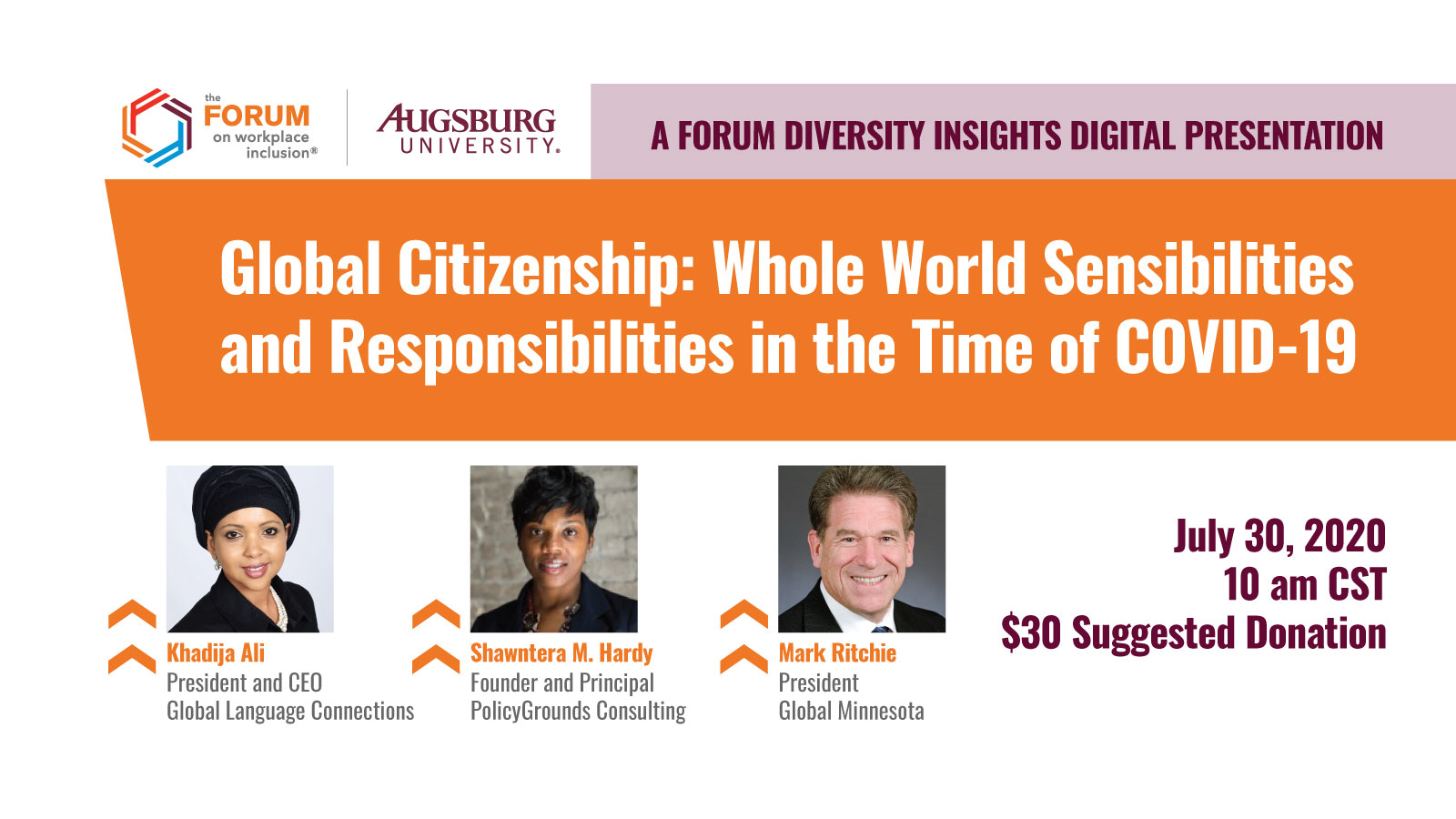 When: July 30, 2020 10:00 am – 11:30 am
Cost: $30 Suggested Donation
Learning Track: Global Diversity
Presenters: Khadija Ali, Global Language Connections  |  Shawntera M. Hardy, PolicyGrounds Consulting  |  Mark Ritchie, Global Minnesota
Global citizenship and inter-connectivity allows us to experience and impact the world in more expansive ways than ever before. However, with this new international reach, comes responsibility for simultaneously caring for both our local communities and for others on the planet impacted by our actions or decisions. Given these new realities, how do we ensure our practices and solutions meet increasingly complex challenges at the local and planetary levels?
Learning Outcomes
Communications policies and practices that satisfy individual interests while keeping in mind the needs of current and future generations – here and everywhere
Team member training approaches to developing simultaneously local and global thinking/action
Feedback mechanism to involve the broader community in this "balancing" process
SPECIAL MESSAGE: This presentation was originally scheduled as one of our Diversity Insights Breakfasts, which are in-person events designed around networking, a plated breakfast and a professional presentation including participatory table work. We usually charge for these in-person events to help off-set the cost of hosting them. The original ticket price for this event was going to be $45. However, due to COVID-19, the in-person portion of this event – like most all in-person events – has had to be re-imagined. And the show must go on.
The work we do – the space we operate in – does not stop simply because we're working differently. So we have decided to move this event online, and make the event free. But it still costs time, resources, and money to host the event. So while the event is free, we're asking anyone who is willing or able to, to make a suggested donation of $30. While the suggested donation is $30, we ask that you give whatever you think this presentation and the mission of The Forum is worth. Whether less than or more than, it's up to you! Whatever you give is generous. We sincerely and truly appreciate the support.
If you need any disability-related accommodation to fully participate in this event, please contact University Events at events@augsburg.edu. Please allow for sufficient time to arrange the accommodation.