Forum Webinar: From Bystander to Ally
April 15 @ 11:00 am

-

12:00 pm

CDT

Free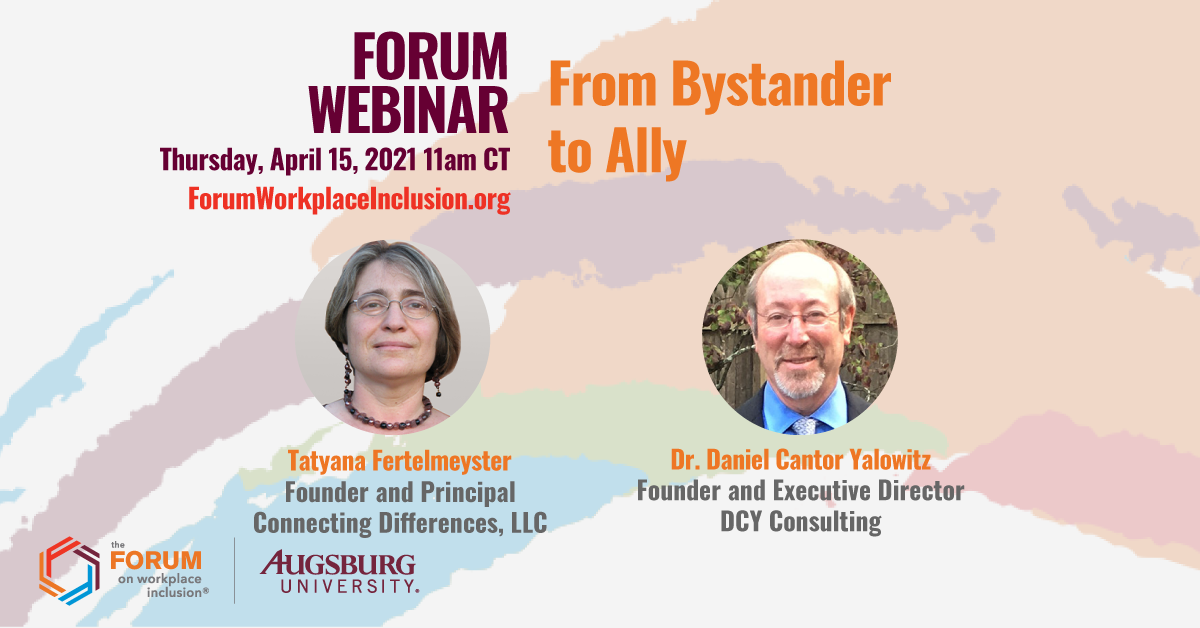 When: April 15, 2021 11:00 am – 12:00 pm CT
Level: Intermediate
Track: Social Responsibility
Presenters: Dr. Daniel Cantor Yalowitz, DCY Consulting  |  Tatyana Fertelmeyster, Connecting Differences, LLC
Cost: Free
When anyone is confronted by any form of aggression, whether verbal, physical, social, or economic, it is natural to feel fear, doubt, and paralysis. This is important in assessing critical next steps if we happen to be a bystander. We must also look at our own fears and triggers as they, too, play a role in how we may react or respond to any potential conflict or confrontation.
During this webinar participants will consider some very important questions as they devise their own ways of responding to triggering situations. How does privilege impact decisions to engage in conflict and whether/how to respond? When is allyship an act of support, and when is it not? Who gets to decide? How do we deal with our own emotional responses to aggression and confrontation? How can one become an effective ally in a virtual work world and how does this differ from an in-person workplace?
Learning Outcomes
Know how to decide when to intervene as an active bystander
Identify and manage their personal emotional triggers
Utilize practical tools to engage in building allyship for safety in their workplace
If you need any disability-related accommodation to fully participate in this event, please contact University Events at events@augsburg.edu. Please allow for sufficient time to arrange the accommodation.